Friday, December 26, 2003
Playlist for Your Saxophone is My Guitar
Aired Thursday 12/18/03 4:00-7:00pm
FORMAT
artist - song - release (label)
*=new
C=compilation
R=request
Albert Ayler - Spirits Spiritual - U (esp)
This Heat - Not Waving - Peel Sessions (These)
Swirlies - Error - Park the Car 7" (Pop Narcotic)
Archers of Loaf - Bathroom - 7" Alias (R)
Regulator Watts - False idols - The Aesthetics of No Drag (Dischord/Slowdime)
Hammers of Misfortune - Troll's March - The Bastard (Tumult)
The Seconds - Not About Love - Y (5RC)
Kid 606 - Retreat, the Most Famililar - Dancing Machine comp (TMU)
Flin Flon - Yellowkinife - a-OK (Teenbeat)
Hum - Scraper - Elektra 2000 Cargo (R)
Enemymine - Day One - The Ice in Me
St. Vitus - White Magic / Black Magic - s/t (SST)
The Black Elf Speaks - Water Troll - Elvish Presley (Bulb)
Buckets and Batteries - untittled - 7" *
Pentangle - Mirage - s/t
Martin and Sandy Denny - The Ballad of Easy Rider - live!
Matt Valentine - Cocola's Ebonic Journey - Glorious Group Therapy (Ecstatic Yod) *
Mindflayer - Swallowed By the Earth - Take Your Skin Off (Bulb)
Vaz - They've Won - Dying to Meet You (GSL)
Men's Recovery Project - Black Albino - Bolides Over Basra (Load)
Soft Boys - Mr. Kennedy - Nextdoorland Matador R
Theoretical Girls - You Got Me - 7"
14 Year Old Girls - 1-800-255-3700 - Zombies in Robots Out (Retardo)
Lung Leg - Accident - Hello Sir (KRS)
Moss Icon - Kick the Can - Lyburnum (Vermiform)
Crawlspace - Five Simply - Good Taste (Gulcher) C
Shotmaker - Reconstructing Barriers - discography 2xCD (TMU)
Charles Bronson - Marraige Can SUck It - 10" (Youth Attack!)
400 Blows - The Biggest Hit Yet - 7" (GSL)
An Albatross - The Man-Eating Pigs of Madidi - s/t (Bloodlink) R
Policy of 3 - 44 to Go - Dead Dog Summer - LP (Old GLory) R
Born Against - Jock Gestapo - Patriotic Battle Hymns (KRS) R
Combatwoundedveteran - ....and now that I'm cornered by - split CD w/ Reversal of Man
Antioch Arrow - In Love with Jets - In Love with Jets (Gravity)
Gift of Goats - Battery Factory - Ominbus recs Comp (Omnibus) * C
Joy Division - Candidate - Unknown Pleasures (Factory) R
Books - The Future, Wouldn't that Be Nice - The lemon of Pink (Tomlab) * R
Epilteptics / Flux of Pink Indians - System Rejects - Fits and Starts (Dr. Strange) *
The Quick Fix Kills - My Scabs Look Like Art - Saint Something (My Pal God)
Eric's Trip - My Room - Love Tara (Sub Pop)
Pinhead Gunpowder - Buffalo Compulsive Disclosure (Lookout) *
Mudhoney - You Got It - March to Fuzz
Hospitals - Friends - s/t *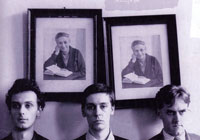 This Heat
Thursday, December 11, 2003
Playlist for Your Saxophone is My Guitar
Aired Thursday 12/11/03 4:00-7:00pm
*Hawkwind, Can, Godheadsilo, Jim Carrol Band played by request.
*I got the best phone calls. If I believe all of them then I made one person's day, saved another person's life, and did the best radio show of the past 25 years. I think it had something to do with all the traffixxx in Princeton today, lots of folks stuck in cars listening to the radio.
*Black Flag and Sabbath are so good, never forget.
*That earlier Animal Collective album is better than "Here Comes the Indian."
*Maybe it's against the rules to play those T-rex and Big Star songs back to back because they're too perfect.
*Everyone called up asking about Gentle Giant. It's some crazy prog rock shit.
*The new Bride of No No is a disappointment.
*Check out the new playlist archives at wprb.com. I feel like I'm already in 2004.
FORMAT
artist - song - release (label)
Circus Lupus - Unrequited - Super Genius (Dischord)
The Real Kids - All Kindsa Girls - s/t
Naked Raygun - Surf Combat - Throb Throb (Homestead)
Hawkwind - Assault and Battery part 1 - Warriors on the Edge of Time
Black Sabbath - War Pigs - Paranoid
Mummies - Your Love - Death by Unga Bunga! (Estrus) *
Fingernail - Aeden - A Childhood in Eden (dp)
A-Frames - Modula - 2 (S-S) *
Gossip - Arkansas Heat - Arkansas Heat (KRS)
Judy Garland - Zing! Went the Strings of My Heart - The Capitol Years CD
Berlin - The Metro - Pleasure Victim EP
Godheadsilo - Friend Island - Share the Fantasy SubPop
His Hero is Gone - Sterile Fortress - 15 Counts of Arson (Prank!)
Can - Paperhouse - Tago Mago
Animal Collective - Bat You'll Fly - Sprit They're Gone, Spirit They've Vanished
Gentle Giant - In a Glass House (selection) - In a Glass House
Syd Barrett - Golden Hair - The Madcap Laughs
Lungfish - This World - Love is Love (Dischord) *
Bride of No No - Real in My Friend - s/t (Atavistic) *
Fm Knives - T.V. Light - Useless and Modern (Broken)
Pegboy - Not What I Do - Strong Reaction (Quarterstick)
Gaunt - Breaking Up - Yeah, Me Too (Amphetamine Reptile)
Dillinger 4 - Twenty One Said Three Times Quickly - Midwestern Songs of the Americas (Hopeless)
Black Flag - Police Story - Damaged (SST)
The Bronx - Cobra Lucha - s/t (White Drugs) *
Johnny X and the Groadies - Spine Crusher - compilation (Omnibus) *
Kaospilot - Process is Set - s/t (Level-Plane) *
Big Black - The Model - Songs About Trucking (Touch and Go)
Napalm Death - The Kill - Scum (Earache)
Forcefield - selection - Lord of the Rings Modular (Load) *
T-Rex - Jeepster - Electric Warrior
Big Star - Back of a Car - Radio City (Stax)
New Order - Ceremony - Substance
The Diapers - Ponch's Boyfriend - How to Plan Successful Parties (omnibus)
100 Homo DJ's - Supernaut 12"
Jim Carrol Band - People Who Died - (Catholic Boy)
The Freeze - Nothing Left - reissue CD (Dr. Strange)
Black Sabbath
Friday, December 05, 2003
Playlist for Your Saxophone is My Guitar
Aired Thursday 12/4/03 4:00-7:00pm

*Beat Happening, Starlight Desperation, Exciter, and Low played by request
*Stero Total, Simply Saucer, Eleventh Dream Day, The Freeze all relatively recent reissues.

FORMAT
artist - song - release (label)



RED SCARE - Device for Annhililation 0- CAPPILARY LOCKDOWN (TMU)
CITIZEN'S ARREST - Through the Mist - COllussus (Wardance)
400 BLOWS - The Sore Thumb - 7" (GSL)
The USer - Abandon (Asphodel)
HEROIN - I've got mine - CD (Gravity)
RORSCHACH - Exist - Autopsy CD (Gern)

THE HOSPITALS - HAZMAT - s/t (In the Red)
STEREO TOTAL - Ach Ach Leibling- Monokini (KRS)
THE FREEZE - Warped COnfession - new reissue (Dr. Strange)
R Starlight Desperation - Messed Up Head - Whow You What a baby Won't
(GSL)
Eleventh Dream Day - Coercion - Praire School Freakout (Thrill)
FLYING SAUCER ATTACK - Here I Am - Further (Drag City)

RISK RELAY - C is for conspire - Low Frequency Listener (Ernest J)
STEREOLAB - Sudden Stars - Instant O in the Universe (Elektra)
BEAT HAPPENING - Foggy Eyes - s/t (K)
EXCITER - title track - Violence and Force (Megaforce)
WU TANG - THE CITY - Forever
F MINUS - WAKE UP - Wake Up Screaming

THE MAKERS OF THE DEAD TRAVEL FAST - Tael of a Saeghors Sydney Post
Punk #3 comp
THE SHAED - Ballot Bachs - Mindrocker $3 comp
THEUSAISAMONSTER - Love - Tasheyana Compost (Load)
TWLEVE HOUR TURN - How to Build - s/t (No Idead)
NANCY SINATRA - Jackson - Country, My Way

TJSA - Bottle Island - Hey, You Looking for Treble? - Year Xero
U.S. Maple - You Said that Street - Purple on Time (Drag City)
Low - Transmission - Transmission EP (Vernon Yard)
THE MOLES - Curdle - Untune the Sky (Seaside)
MEREL - Waiting for a Fist Fight First - LP (Gern)

SLEEPYTIME TRIO - I'm Not a Spy - Plus6000 (Lovitt)
KILL THE MAN WHO QUESTIONS - Dose - 7" (Bloodlink)
GO! - Why Suffer - Why Suffer 7" (Forefront)
MAN LIFTING BANNER - Sister - Give Me Back comp (Ebullition)
HARI KARI - pray for peace - Live is Boring comp
EXCELSIOR - Commodore Big - Can We Get Some Satisfaction Up in this
Piece (Buddy System)

KINSKI / ACID MOTHERS TEMPLE - Fell Asleep On Your Lawn - CD (SubPop)
Die Goldenen Zitronen - Das bibchen totschlag Sturm und Twang comp.
CD (Big Cat)
AGAINST ME! - Mutiny on the Electronic Bay - As the Eternal Cowboy -
(Fat)
SIMPLY SAUCER - Electro Rock - Cyborgs Revisited (Sonic Unyon)

DONNER PARTY - John Wilkes Booth