Thursday, September 25, 2003
Playlist for Your Saxophone is My Guitar
Aired Wednesday 9/25/03 4:00-7:00pm
*Mars Volta, Enon, Tom Waits, June of 44, Vitrious Humor - by request
*There are some great, previously hard-to-find songs on the NY Noise compilation
*Ugliest album art of the day - Chris Knox.
*The new schedules are up at
http://www.wprb.com
.
FORMAT
artist - song - release (label)
Red Red Meat - Rubbing Mirrors - CD (Perishable)
Mars Volta - EP (GSL)
Mars - Helen Fordsdale - NY Noise Comp (Soul Jazz)
Enon - For the Sum of It - Believeo! (See Thru)
My Dad is Dead - Deja Vu - For Richer, For Poorer (Emp. Jones)
Krunchies - John Bitter - Digital Sampler compilation
Vitreous Humor - Science Has No Soul - Posthumous (Crank!)
Kraftwerk - Computer Love - Computer World (WB)
DAT Politics - 4 - TracoFlirt (Tigerbeat6)
Young Marble Giants - NITA - Colossal Youth
The Ravonettes - That Great Love Sound - Chain Gang of Love (Columbia)
Monkees - Mary, Mary - Phenomenal Monkees
Alice Cooper - Hallowed Be My Name - Love it to Death
Dancing Cigarettes - Poignant - 1980-1981 (Gulcher)
My Bloody Valentine - You Never Should - Isn't Anything (Sire)
Uriah Heep - Gypsy Queen - Best of ...
Rye Coalition - Heart of Gold, Jacket of Leather - On Top (Tiger Style)
Paint it Black - Head Hurts Hands on Fire - CVA (Jade Tree)
Prisonshake - Elijia - A Girl Named Yes
Pezband - Hold On - s/t LP (Passport)
Q and not U - X-Polynation - CD Single (Dischord)
Crispy Lizards - The Only - Throwin a Hissy
Hip Transistor
comp CD
Sparrow - One Eye Closed - s/t (Overcoat)
Cat Power - Half of You - You Are Free (Matador)
Townes Van Zandt - Catfish Song - All My Windows (Sugar Hill)
This Heat - Health - Health and Efficiency (These)
Tom Waits - title track - Swordfishtrombones
Black Elf Speaks - Water Troll - Elvish Presley (Bulb)
Zen Guerilla - Moonage Daydream (Bowie cover) - Trance States in Tongues (Sub Pop)
Matmos - Regicide - Civil War (Matador)
The Movies - Midnight Blood Murder - In One Ear out the Other (Gern)
Ted Leo - Ghosts (The Jam) - Live on WPRB
Numbers - I Have a Headache This Big - Death
Quails - Change Will Come - The Song is Love (Mr. Lady)
Essential Logic - Moontown - Fanfare in the Garden (KRS)
June of 44 - Lusitania - Tropics and Meridians (1/4 stick)
Chris Knox - Meat - Croaker (Flying Nun)
An Albatross - The Revolutionary Politics of Dance - We are the Lazer Viking (Ace Fu)
MX-80 - Myonga Von Brutee - Big Hits/ Hard Attack (Atavistic)
Dead Boys - Down in Flames - Young Loud and Snotty (Sire)
Ludella Black and the Masonics - The Skull of a Man - 7" (SmartGuy)
Brother JT - Lord You are the Wine - Live on WPRB
The Gits - Another Shot of Whiskey - Frenching the Bully (Broken)
MBV!
Thursday, September 18, 2003
Starting next week (the week of September 22), Your Saxophone is My Guitar will air on Thursdays 4-7pm. This is a new time for the fall program schedule. Don't forget - Thursdays now instead of Wednesdays.

Wednesday, September 17, 2003
Playlist for Your Saxophone is My Guitar
Aired Wednesday 9/17/03 4:00-7:00pm
*Dragon City, Unwound, Social Distortion, 13th Floor Elevators played by request
*Current obsession: The Byrds
*Bardo Pond makes for the ideal bathroom break
*Red House Painters still make me want to kill myself (in a good way)
*I said on the air that the Soft Boys song sounded like Syd Barrett but I didn't think it was a cover...well a couple callers informed me that that song was an unreleased song Syd wrote for Pink Floyd. It was never recorded because of his condition. Only Robyn Hitchcock could make such an uncanny imitation.
FORMAT
artist - song - release (label)
Red House Painters - San Geronimo - Retrospective (4AD)
Canned Heat - One Kind Flavor - Living the Blues
The Hellacopters - Venus in Force - Grande Rock (SubPop)
The Sonics - Skinny Minny - Boom (Etiquette)
Fad Gadget - Ricky's Hand - Best of (Mute)
Crass - Big A - Best Before (Crass)
Kedd Kross - Tatum O'Tot and the Fried Vegetables - Neurotica (Fove Foot Two)
Really Red - Modern Needs - Killed By Death #4 comilation (Redrum)
The Ex - Frenzy - Starters Alternators (Touch and Go)
Dragon City - Sleeper - Shy the Lay About (s/r)
Soft Boys - Vegetable Man - Underwater Moonlight (Matador)
Microphones - The Mansion - The GLow Part II (K)
Blues Goblins - Drunken Spree - s/t (Off)
Unwound - Lady Elect - Repetition (KRS)
Vaz - Freon Suite #2 - Dying to Meet You (GSL)
T-Rex - Jewel - s/t
Unrest - I Do Believe You're Blushing - Imperial f.f.r.r. (TeenBeat)
Wedding Present - Once More - Tommy
Cheap Trick - Goodnight - Live at Budokan
Social Distortion - Moral Threat - Mommy's Little Monster
Colin Newman - I've Waited Ages - A-Z (Restless)
Byrds - Natural Harmony - Notorious Byrd Brothers
New Pornographers - Balld of a Comeback Kid - Electric Version (Matador)
Bardo Pond - Every Man - On the Ellipse (ATP)
Quicksilver Messenger Service - Hamilton Camp - s/t
Semiautomatic - title track - Wolfentric (5RC)
The Rapture - The Coming of Spring - Echoes (Mercury)
New Bomb Turks - Hammerless nail - Scared Straight (Epitaph)
Outsiders - I Wish I Could - s/t (Pseudonymn)
Damned - Fan CLub - Peel Sessions
Scared of Chaka - A Lie and a Cheat - Tired of You (SubCity)
13th Floor Elevators - Earthquake - Easter Everywhere
Teengenerate - Kicked out of the Weblos - Get Action (Crypt)
Galaxie 500 - Strange - On Fire (Rough Trade)
Jimi Hendrix - Message to Love - Band of Gypsys
Merel - Rusty Fish Deap Pipes - LP (Gern)
Orchid - Boy with No Arms - Chaos is Me (Ebullition)
Crack: We Are Rock - Hooker Leg - Silent Fantasy (Tigerbeat6)
Exploding Hearts - Guitar Romantic (Dirtnap)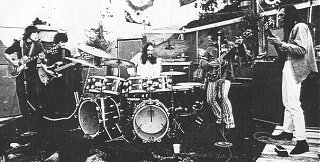 Quicksilver Messenger Service
Wednesday, September 10, 2003
Playlist for Your Saxophone is My Guitar
Aired Wednesday 9/10/03 4:00-7:00pm
*Phantom tollbooth has rerecorded vocals by Bob Pollard.
*A little disappointed by the PGMG
*Kinda random show
*Red House painters make me want to jump off the 7th floor balcony of my appartment building (in a good way)
FORMAT
artist - song - release (label)
The Kills - Sugar Baby - Fried My Little Brains (Rough Trade)
Scritti Pollitti - The Sweetest Girl - 12" (Crysalis)
Phantom Tollbooth - Gratification to Concrete - Beard of Lightning (Off)
Soft Machine - Lullabye Letter - First
Young Antiques - Radio Kill Radio - Clockwork
The Star Spangles - Crime of the Century (Johnny Thunders cover - Bazooka (Columbia)
Verbal Assault - The Pain - Masses and Learn (Mendit)
Pretty Girls Make Graves - All Medicated Geniuses - The New Romance (Matador)
Transistor Transistor - Cry Havoc - split CD w/ Light the Fuse and Run (Level-Plane)
Q and not U - These Are Flashes - Different Damage (Dischord)
JR Ewing - An Introduction To... - Ride Paranoia (GSL)
Lesser - Untitled Track - Tigerbeat6 Label Sampler
Blectum From Blechdom - Mymmys Secret Storage - Tigerbeat6 Label Sampler
Nico - Secret Side - The End (Island)
Astrud Gilberto - Once I Loved - The Astrud Gilberto Album (Verve)
King Crimson - Lady of the Dancing Water - Lizard
Sun Ra - Irregular Galaxy - Solo Piano Vol. 1
Red House Painters - Shock Me - Shock Me EP (4AD)
Consonant - Hell-Blonde - Love and Affliction (Fenway)
Feminine Complex - Run That Thru Your Mind - Livin Love (Teen Beat)
Fuel - Habit - s/t (Sixth International)
Fire Party - Gethsemane - New Orleans Opera (Dischord)
Judas Priest - Dreamer Deceiver - Sad Wings of Destiny (Janus)
999 - Inside Out - Tour In Sport (Polydor)
Strap ons - Replace Me - $4 Whore (Naked)
Arcwelder - Never Counted - Everest (Touch and Go)
Alastair Galbraith - Track One - Talisman
Force Field - 3rd Annual Roggobaggo Motion Picture Soundtrack -Rogooboggas (load)
Joost Visser - Fingers in the Wind - Partners in Hair (Ajax)
Fleshtones - Play With Fire - Up-Front EP (IRS)
Ivy Green - Stupid Village - What Ever They Hype
Excelsior - Curb Dogs Unite - Can We Get Some Satisfaction Up In This Piece (Buddy System)
The Rondelles - Indication - Fiction, Romance, Fast Machines (Smells Like)
Supreme Dicks - Can't Explain - A Tribute To Arthur Lee 7" (Chunk)
Dag-Are Hagan - A Humburg Records Compilation
Dr.Octagon - Blue Flowers - Dr. Octagonecologist (Dreamworks)
Vaz - They've Won - Dying to Meet You (GSL)
Hot Cross - Pretty Picture of a Broken Face - Cryonics (Level-Plane)
Isocracy - Rodeo - Bedtime For lunacy 7" (Lookout!)
Isocracy (!)
Wednesday, September 03, 2003
Playlist for Your Saxophone is My Guitar
Aired Wednesday 9/3/03 4:00-7:00pm

Alice Donut, Nation of Ulysses, Angry Samoans, Captain Beefheart were all by request.

FORMAT
artist - song - release (label)

Moss Icon - End Liberation Fly - Lyburnim (Vermiform)
Fugazi - Glue Man - s/t LP (Dischord)
Stotmaker - Failure - Discography 2xCD (TMU)
Hot Water Music - Different Engine - Fuel for the Hate Game (No Idea)
Tight Bros From Way Back When - Because I Said So - Lend You a Hand (KRS)

Mudhoney - Twenty Four - 2xCD (Sub Pop)
Alice Donut - Hang Up - Untidy Suicides... (Alt. Tentacles)
Nation of Ulysses - Gimme Diaster - Embassy Tapes (Dischord)
Lifetime - Daneurism - Hello Bastards (Jade Tree)
Electric Turn to Me - First Crimes - s/t EP (No QUarter)
Beehive and the Barracudas - Up In Flames - In Dark Love (Swami)

Aislers Set - Through the Swells - How I Learned to Write Backwards (Suicide Squeeze)
Pinback - Microtonic Wave - Offcell (Absolutely Kosher)
Lightning Bolt - Assassins - Wonderful Rainbow (load)
Gang Starr - Soliloquy of Chaos - Full Clip (Virgin)
Sightings - E.E. - Absolutes (Load)
Starvations - Pray For Foul Play - Get Well Soon (GSL)

Dragon City - Title Track - Shy To Lay Baout (s/r)
Joy Division - Shadow Play - Unknown Pleasures (Factory)
Au Pairs - Armagh - Playing With a Different Sex (Human)
EPMD - Big Paycheck - Out of Business
1.6 Band - Plastic Bags - LP (Gern)

Johnny Thunders - One Track Mind - LAMF (Jungle)
The Teeth - Displaced - Displaced 7" (Allied)
Flamin' Groovies - Take Me Back - Now (Sire)
Lilys - Returns Every mornings - Better Can't Make You Feel Better (Primary)
Gorky's Zygotic Mynci - If Fingers Were Xylophones - Introducing... (mercury)
D.A.F. - Co Co Pino - Die Keinen Und Die Bosen (Mute)

Only Ones - Language Problem - s/t
Alpha Control Group C - Through the Door - 7" (Hope)
Angry Samoans - Time Has Come Today - Back From Samoa
Antietam - The Latest - s/t (Homestead)
Gogogoairheart - Comminity, Continuity - s/t (GSL)

The Move - What? - Looking On
Hawkwind - Lord of Light - Doremi Fasol Latido
Sandy Denny - It'll Take a Long Time - Who Knows Where the TIme Goes?

Byrds - I See You - Fifth Dimension
Captain Beefheart - Her Eyes are a Blue Million Miles - Clear Spot
Fred Frith - Dancing in the Street - Gravity (Ralph)
Leviation - Shed His Skin - Verr (Tumult)