Wednesday, November 20, 2002
Playlist for Your Saxophone is My Guitar
Aired Wednesday 11/13/02 4:00-7:00pm
Antiseen, Smiths, Sunny Day Real Estate, Mogwai, Flaming Lips, Jesus Lizard, Spacemen 3, The Anti-nowhere League were requests.
That Gong record served as the soundtrack for my viewing of the meteor shower Monday night.
FORMAT
artist - song - release (label)
Stiff Little Fingers - Law and Order - Inflammable Material (Rough Trade)
Circus Lupus - Marbles - Teenbeat 50 Comp (Teen Beat)
Thumbnail - Risk and Return - s/t LP (File 13)
Michael Hurley - Negatory Romance - Sweetkorn (Trikout)
Love as Laughter - Temptation Island - Sea to Shining Sea (Sub Pop)
Stickmen with Ray Guns - 1000 Ways to Die - Some People Deserve to Suffer (Emporer Jones)
Bad Wizard - Whoo! - Sophisticated Mouth (Tee Pee)
Lifetime - How We Are - Jersey's Best Dancers (Jade Tree)
The Black Sea - Ghost Lanters - s/t (Lovitt)
The Chameleons - In Shreds - Postpunk Chronicles (Rhino)
Racebannon - Flip 'n' Fuck - In the Grps of the Light (Secretly Canadian)
Parker and Lily - My Appartments Complex - Here Comes Winter (Manifesto)
The Hunches - Murdering Train Track Blues - Yes. No. Shut it. (In the Red)
Antiseen - Self Destruction - Southern Hostility (RAVE)
Big Star - You Get what You Deserve - Radio City (Stax)
Guided by Voices - Jane of the Waking Universe (Matador)
Smiths - Queen is Dead - Queen is Deaad (Sire)
Emergency - Who Was his Partner - split 12" w/Numbers (Archiogrammphone)
Taking Pictures - Hibernation for a Hyper Nation - Friends are Ghosts (My Pal God)
Sunny Day Real Estate - song #8 - Thief, Steal me a Peach 7" (Stopped Breathing)
Mogwai - With Portfolio - Young Team (Jet Set)
Lowdown - Barrier Acknoledgement Exercise - Science comp (ToYo)
Flaming Lips - Strychnine/Peace Love and Understandin - The Shamoblic Birth and Early Life of... (Rykodisc)
Chang Siou Ying - I Miss You Forever - Asian Takeaways (Normal)
Pete Shelley - Homosapien - Homosapien (Arista)
Lightning Bolt - Ride the Skies - Ride the Skies (Load)
Flaming Sideburns - Shake-In - Save Rock and Roll (Jetset)
Big Black - L Dopa - Songs about Fucking (T&Go)
Policy of 3 - Mind over Matter - Dead Dog Summer (Old Glory)
Jesus Lizard - My Own Urine - Head EP (Touch&Go)
Spacemen 3 - A-man - Taking Drugs to Make Music to Take Drugs To (Father You)
The Floyd Band - I Hate Looking at You - Crash Course in Cleveland Life (Synthetic)
Public Image Ltd. - Swan Lake - Second Edition (Island)
The Anti-Nowhere Leaague - So What - Live in Yugoslavia (Aggressive Rock)
Add N to X - Sheez Mine - Loud Like Nature (Mute)
New Bomb Turks - Rat Feelings - The Night Before the Day the Earth Stood Still (Gearhead)
Gong - A Sprinkling of Clouds - You (Virgin)
Hot Water Music - Turnstile - Fuel for the Hate Game (No Idea)
Hot Water Music
Wednesday, November 13, 2002
Playlist for Your Saxophone is My Guitar
Aired Wednesday 11/13/02 4:00-7:00pm
Pixies, Radio Birdman, Dismemberment Plan, Buzzcocks, Gories, Yeah Yeah Yeahs were requests
The New Bomb Turks covered that Gaunt song for their WFMU performance and it gave me goosebumps.
FORMAT
artist - song - release (label)
Gun Club - She's Like Heroin to Me - Fire of Love (Ruby)
Andre Williams - I Wanna Be Your Favorite Pair of Pajamas - Silky (In the Red)
Pixies - Manta Ray - at the BBC (4AD)
Ruins - Messiaen - Tzomborgha (Ipecac)
The Lost Sounds - Rat's Brains and Microchips - Rat's Brains and Microchips (Empty)
ABCS - Luni 3 - s/t (TMU)
Zero Boys - Amphetamine Addiction - Vicious Circle (NimRod)
Clairmel - Billy Boil - Fairweather Fun (no Idea)
Poster Children - Everything Burns - Clock Street (Creation)
The Pupils - The Mind is a Hole in the Body - s/t (Dischord)
Nathan Michel - unititled - abc def (Tigerbeat6)
Smog - I Break Horses - Accumulation None (Drag City)
Wynona Riders - Childhood Game - Some Enchanted Evening 7" (Lookout!)
Flowers - Confessions - Mutant Pop comp (PVC)
The Only ones - Language Problem - Peel Sessions (Dutch E.India)
U.S. Maple - Obey Your Concert - Acre Thrills (Drag City)
Canyon - Sleepwalker - Empty Rooms (Gern)
Creation - Making Time - Nuggets II (Rhino)
The Gravel Pit - Focusing on my Goal and Achieving it - My Companion Compilation (Turn of the Century)
Radio Birdman - Snake - Essential Radio Birdman (SubPop)
Dismemberment Plan - ...Gets Rich - Split EP w/Juno (DeSoto)
Tonka - Sunshine - Waffle House 7" (Assorted Porkchops)
Transistor Transistor - Slitting Your Wrist with the Cut of Your Jib - split 7" w/Aim of Conrad (s/r)
25 Suaves - Get it Right - 1938 (Bulb)
Thalia Zedek - No Fire - You're a Big Girl Now (Kimchee)
Bigger Lovers - Ivy Grows - Honey in the Hive (Yep Roc)
The Stickmen - Mystery Party - Insatiable (Cuneiform)
Angry Son - Suffocation - Can you Break Through comp (Skene)
Plow United - You Can't Kill Me (I'm Already Dead) - Goodnight Sellout (Creep)
The Warlocks - Inside Outside - Phoenix Album (Birdman)
Buzzcocks - Time's Up - Spiral Scratch (Mute)
Gories - Telepathic - Outta Here (Cypt)
Gaunt - Weekend - I Can See Your Mom From Here (Thrill Jockey)
Murder City Devils - Bunkhouse - In Name and Blood (SupPop)
Yeah Yeah Yeahs - Our Time - s/t (Touch and Go)
Christian Lunch - Joke's on You - Let them Eat Jellybeans (Alt. Tent.)
Articles of Faith - Never Really Understood - In This Life (Lone Wolf)
Buell Zazee - The Wagoner's Lad - Anthology of American Folk Music (Smithsonian Folkways)
Red Aunts - Exene - Ghetto Blaster (Epitaph)
Trapdoor Fucking Exit - New Sport - s/t (No Idea)
Scared of Chaka - Cashed Out - Masonic Youth (Empty)
Pinhead Gunpowder - Big Yellow Taxi - Fahizah 7" (Lookout)
Heroin - Moving Parts - CD (Gravity)
Thalia Zedek
Wednesday, November 06, 2002
Playlist for Your Saxophone is My Guitar
Aired Wednesday 11/6/02 4:00-7:00pm
The Clash and Arab on Radar were requests. I just bought the Kill the Man Who Questions 7" at the WFMU Record Fair which was really fun.
FORMAT
artist - song - release (label)
Bow Wow Wow - Baby, Oh No - I Want Candy (BMG)
Dally Proton - Pretender - Plunderphonics (Seeland)
Matching Mole - Gloria Gloom - Little Red Record (Columbia)
Albert Ayler - Zion Hill - Reevaluations: The Impulse Years (ABC)
Jandek - Approaching the City - White Box Requiem (Cornwood)
Captain Beefheart - Bat Chain Puller - Shiny Beast (WB)
The Vibrators - Flying Duck Theory - V2 (CBS)
Verlaines - Crisis After Crisis - Juvelilia (Homestead)
Add N to X - Electric Village - Loud Like Nature (Mute)
The Convovations Of... - Eternal Dreamtime - Pyramid Technology (Tiger Style)
Kill the Man Who Questions - Lips Sewn Shut - split 7" w/Shoplifters (Creep)
Johnny Thunders and the Heartbreakers - Pirate Love - LAMF (Jungle)
Rocket From the Crypt - I'm Not Invisible - Live from Camp X-Ray (Vagrant)
The Desperate Bicycles - Advice on Arrest - CD (Acute)
Gray Matter - Take It Back - Take It Back (Dischord)
New Bomb Turks - Leaving Town - The Night Before the Day the Earth Stood Still (Gearhead)
Champagne Kiss - Stereo Relapse - Dancing in the Pocket of Thieves (TMU)
Q and not U - So Many Animal Cells - Different Damage (Dischord)
The Replacements - Hold My Life - Time (Sire)
The Clash - Police and Thieves - s/t (CBS)
Dillinger Four - Noble Stabbings - Situationist Comedy (Fat)
Blood Brothers - Mr. Electric Ocean - March on Electric Children (31G)
The Dickies - Fan Mail - Dawn of the Dickies (A&M)
Bad Wizard - Love Machine (Uriah Heep) - Sophisticated Mouth (TeePee)
Radio Alarm Clocks - Slave Planet - s/t (After Hours)
Bardo Pond - Tommy Gun Angel - Lapsed (Matador)
X - Los Angeles - s/t (Slash)
The Rhythm Machine - The Kick - The Funky 16 Corners (Stones Throw)
Arab on Radar - Rubber Robot - Queen Hygiene II (Heparin)
The Soft Boys - Sudden Town - Nextdoorland (Matador)
Bluebird - 2 Friends - The Two (Pacifico)
Hose Got Cable - Occopatus - s/t (Old Glory)
David Thomas and Foreigners - White Room - Bay City (Thirsty Ear)
Girls Against Boys - Glazed Eye - Cruise Your Self (Touch and Go)
The Walkmen - Wake Up - s/t EP (Star Time)
Devo - GATESOFSTEEL - Freedom of Choice (WB)
The Consumers - Punk Church - All My Friends Are Dead (In the Red)
Dag Nasty - Can I Say - Can I Say (Dischord)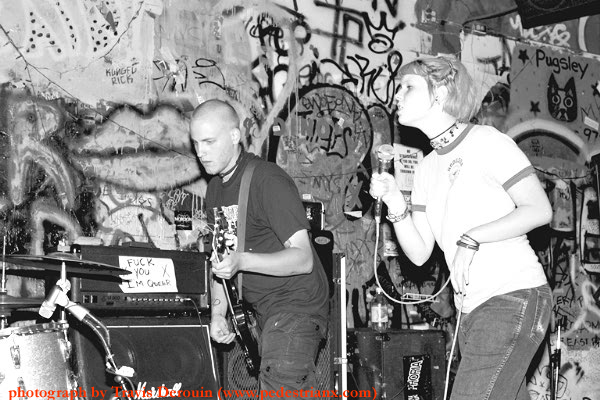 Kill the Man Who Questions
Friday, November 01, 2002

Playlist for Your Saxophone is My Guitar
Aired Wednesday 10/30/02 4:00-7:00pm
Since it was the day before Halloween, I played some Halloween-related material. Thanks to callers for making some good suggestions.
FORMAT
artist - song - release (label)
Zen Guerilla - Moonage Daydream - Trance States in Tongues (Sub Pop)
Theoretical Girls - U.S. Millia - s/t CD - Acute
Honor Role - Lives of the Saints - Craig Olive 7" (Homestead)
Pilot to Gunner - Bring it Live - Games a High Speeds (Gern)
Pinback - Penelope - Blue Screen Life (Ace Fu)
Ivy Green - I Sure We're Going to Make It - Whatever they Hype (Sirco)
The Selby Tigers - Cheerleading is Big Business - The Curse of... (Hopeless)
El-P - Turned Mass Damper - Fantastic Damper (DefJux)
Begin Halloween material...
Sonic Youth - Halloween - 12" Single (Homestead)
Misfits - Halloween - Box Set (Caroline)
Dream Syndicate - Halloween - The Days of Wine and Roses (Ruby)
Blue Oyster Cult - Nosferatu - Spectres (CBS)
Jad Fair - Dracula - Monster Songs for Children (KRS)
Dead Kennedys - Halloween - Plastic Surgery Disasters (Alternative Tentacles)
King Diamond - At the Graves - Conspiracy (Roadrunner)
Future Bible Heroes - She-Devil of the Deep - Memrories (Slowriver)
Cramps - Goo Goo Muck - Bad Music for Bad People (IRS)
Mummies - Shut Yer Mouth - Never Been Caught (Telstar)
Love Life - Sweet Nocturne - Here is Night Brothers, Here the Birds Burn (Jagjaguwar)
Birthday Party - Release the Bats - Hits (4AD)
Slayer - Dead Skin Mask - Seasons in the Abyss (Def American)
End Halloween material.
Universal Order of Armageddon - Visible Distance - The Switch is Down (Kill Rock Stars)
Make Up - Walking on the Dune - I Want Some (K)
Hot Hot Heat - Aveda - Make up the Breakdown (SubPop)
Melvins - Your Blessened - Bullhead (Boner)
Lo-Hi - Runaround - Say it More (Tiger Style)
Retsin - Loon - Egg Fusion (Simple Maachines)
Chispa - Bradley - s/t 7" (Bloodlink)
Kill Me Tomorrow - Lawn - s/t CD (Silver Girl)
Hoover - Breather - s/t CD (Slowdime)
Burning Brides - Glass Slipper - Fall of the Plastic Empire (V2)
Outhud - Dad, Now There's a Little Phrase called too Much Information - Streetland (Kranky)
Dancing Cigarettes - Pop - 1980-1981 The Gulcher Recordings (Gulcher)
No Knife - Fletchette - Riot for Romance (Better Looking)
Tristeza - The Magic Hour - s/t (Gravity)
Get Hustle - Cat Act - Earth Odyssey (5RC)
Sahara Hotnights - Alright, Alright, Here's My First, Now There's the Fight - Jeannie Bomb (Jet Set)
Ex-Models - Love Japanese Style - Other Mathematics (Ace Fu)
Jawbreaker - P.S. New York is Burning - Bivouac (Tupelo)
King Dimond