Friday, June 11, 2004
This is an old page and exists only for posterity. On this site are archived playlists from October 2002 to January 2004. More recent and current playlists are here:

http://wprb.com/djplaylists.php?id=7
Friday, February 13, 2004
Here is a recent
interview with Chris Thomson
about his new band "Red Eye Legends." I had no idea he was married to singer / keyboard player Kim Thompson, that's convenient that they have almost the same last name.
Playlists are here:
http://wprb.com/djplaylists.php?id=7
My show will keep the same time this semester. THURSDAYS 4 pm - 6:45 pm.
Live music from
OFFICER MAY
on Thurs, February 26 starting around 5pm.
Officer May
Friday, January 23, 2004
Playlist for Your Saxophone is My Guitar
Aired Thursday 1/22/03 4:00-7:00pm
It's a homonym, NOT AN ANTONYM!
Here's the playlist of yesterday's show. Live music from Chicago's Lying in States.
http://www.wprb.com/printplaylist.php?show_id=262
Wednesday, January 21, 2004
Playlist for Your Saxophone is My Guitar
Aired Thursday 1/14/03 4:00-7:00pm

FORMAT
artist - song - release (label)
*=new
C=compilation
R=request

Echo and the Bunnymen - Do It Clean - Crocodiles
Dead Can Dance - Orbis de Ignis - The Serpent's Egg (4AD)
Pink and Brown - track 13 - Shame Fantasy II Load R
Dead Can Dance - Song for Sophia - The Serpent's Egg (4AD)
Gravitar - McCoy - You Must First Learn to Draw the Real (Monotrema)
Robert Wyatt - Fol De Rol - Solar Flares Burn For You (Cuneiform)

Damned - Neat Neat neat - Sessions of the Damned
Trenchmouth - In High Contrast - The Broadcasting System (Skene!)
This Mortal Coil - 16 Days (Reprise) - s/t (4AD)
3rd Bass - Microphone Techniques - Derelicts of Dialect
Floodgate - Out There With the Unknown - I Choose Danger 2x7" (No idea)

Michael Yonkers Band - Microminiature Love - Microminiature Love Sub Pop
Trumans Water - Floorjacker - The Singles 1992-1997 No Sides *
Crescent - New Leaves - By the Roads and the Fields Fat Cat *
Black Flag - Clocked In - Everything Went Black SST R
Gray Matter - Head - Take It Back Dischord

Wire - Another the Letter - Chairs Missing
The Germs - Land of Treason GI
Monorchid - Abyss - Who Put Out the Fire? Touch and GO R
Heartbreakers - One Track Mind - L.A.M.F. !111!11!1!!!11!!
Hanoi Rocks - I Can't Get It - Two Steps From the Move
New Bomb Turks - Weekend - Switchblade Tongues, Butterknife Brains Gearhead Gaunt cover!!!111!1!

The Starlight Desperation - What I Want - Go Kill Mice Flapping Jet
Cream - Pressed Rat and Warthog - Wheels of Fire
Bikini Kill - Finale - Reject all American (KRS) R
Ten Years After - As the Sun Still Burns Away - Cricklewood Green
Young Marble Giants - Searching for Mr. Right - Colossal Youth (Rough Trade)
Sully - Scrubable - I Have Nothing to Report (Random Sound)

The Diapers - It's Not Pretty - how to plan successful parties *
Ghost - title track - Snuffbox Immanence
The Dead C - Mordam Heaven - Operation of the Sonne
Jesus and Mary Chain - Inside Me - Psychocandy
Universal Order of Armageddeon - Painfully Obvious - split 7" w/ Born Against (Gravity)
fourhundredyears - Lock Up - 7" (Yuletide)

Thinking Fellers - Catcher - Mother of all Saints (Matador)
King Diamond - A Mansion in Darkness - Abigail (Roadrunner)
Lincoln - Sugarloaf - 7" (Art Monk)
Honor Role - Absolve - Rictus

Stark Reality - Rocket Ship - Now - (Stones Throw)


Friday, December 26, 2003
Playlist for Your Saxophone is My Guitar
Aired Thursday 12/18/03 4:00-7:00pm
FORMAT
artist - song - release (label)
*=new
C=compilation
R=request
Albert Ayler - Spirits Spiritual - U (esp)
This Heat - Not Waving - Peel Sessions (These)
Swirlies - Error - Park the Car 7" (Pop Narcotic)
Archers of Loaf - Bathroom - 7" Alias (R)
Regulator Watts - False idols - The Aesthetics of No Drag (Dischord/Slowdime)
Hammers of Misfortune - Troll's March - The Bastard (Tumult)
The Seconds - Not About Love - Y (5RC)
Kid 606 - Retreat, the Most Famililar - Dancing Machine comp (TMU)
Flin Flon - Yellowkinife - a-OK (Teenbeat)
Hum - Scraper - Elektra 2000 Cargo (R)
Enemymine - Day One - The Ice in Me
St. Vitus - White Magic / Black Magic - s/t (SST)
The Black Elf Speaks - Water Troll - Elvish Presley (Bulb)
Buckets and Batteries - untittled - 7" *
Pentangle - Mirage - s/t
Martin and Sandy Denny - The Ballad of Easy Rider - live!
Matt Valentine - Cocola's Ebonic Journey - Glorious Group Therapy (Ecstatic Yod) *
Mindflayer - Swallowed By the Earth - Take Your Skin Off (Bulb)
Vaz - They've Won - Dying to Meet You (GSL)
Men's Recovery Project - Black Albino - Bolides Over Basra (Load)
Soft Boys - Mr. Kennedy - Nextdoorland Matador R
Theoretical Girls - You Got Me - 7"
14 Year Old Girls - 1-800-255-3700 - Zombies in Robots Out (Retardo)
Lung Leg - Accident - Hello Sir (KRS)
Moss Icon - Kick the Can - Lyburnum (Vermiform)
Crawlspace - Five Simply - Good Taste (Gulcher) C
Shotmaker - Reconstructing Barriers - discography 2xCD (TMU)
Charles Bronson - Marraige Can SUck It - 10" (Youth Attack!)
400 Blows - The Biggest Hit Yet - 7" (GSL)
An Albatross - The Man-Eating Pigs of Madidi - s/t (Bloodlink) R
Policy of 3 - 44 to Go - Dead Dog Summer - LP (Old GLory) R
Born Against - Jock Gestapo - Patriotic Battle Hymns (KRS) R
Combatwoundedveteran - ....and now that I'm cornered by - split CD w/ Reversal of Man
Antioch Arrow - In Love with Jets - In Love with Jets (Gravity)
Gift of Goats - Battery Factory - Ominbus recs Comp (Omnibus) * C
Joy Division - Candidate - Unknown Pleasures (Factory) R
Books - The Future, Wouldn't that Be Nice - The lemon of Pink (Tomlab) * R
Epilteptics / Flux of Pink Indians - System Rejects - Fits and Starts (Dr. Strange) *
The Quick Fix Kills - My Scabs Look Like Art - Saint Something (My Pal God)
Eric's Trip - My Room - Love Tara (Sub Pop)
Pinhead Gunpowder - Buffalo Compulsive Disclosure (Lookout) *
Mudhoney - You Got It - March to Fuzz
Hospitals - Friends - s/t *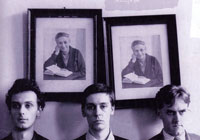 This Heat
Thursday, December 11, 2003
Playlist for Your Saxophone is My Guitar
Aired Thursday 12/11/03 4:00-7:00pm
*Hawkwind, Can, Godheadsilo, Jim Carrol Band played by request.
*I got the best phone calls. If I believe all of them then I made one person's day, saved another person's life, and did the best radio show of the past 25 years. I think it had something to do with all the traffixxx in Princeton today, lots of folks stuck in cars listening to the radio.
*Black Flag and Sabbath are so good, never forget.
*That earlier Animal Collective album is better than "Here Comes the Indian."
*Maybe it's against the rules to play those T-rex and Big Star songs back to back because they're too perfect.
*Everyone called up asking about Gentle Giant. It's some crazy prog rock shit.
*The new Bride of No No is a disappointment.
*Check out the new playlist archives at wprb.com. I feel like I'm already in 2004.
FORMAT
artist - song - release (label)
Circus Lupus - Unrequited - Super Genius (Dischord)
The Real Kids - All Kindsa Girls - s/t
Naked Raygun - Surf Combat - Throb Throb (Homestead)
Hawkwind - Assault and Battery part 1 - Warriors on the Edge of Time
Black Sabbath - War Pigs - Paranoid
Mummies - Your Love - Death by Unga Bunga! (Estrus) *
Fingernail - Aeden - A Childhood in Eden (dp)
A-Frames - Modula - 2 (S-S) *
Gossip - Arkansas Heat - Arkansas Heat (KRS)
Judy Garland - Zing! Went the Strings of My Heart - The Capitol Years CD
Berlin - The Metro - Pleasure Victim EP
Godheadsilo - Friend Island - Share the Fantasy SubPop
His Hero is Gone - Sterile Fortress - 15 Counts of Arson (Prank!)
Can - Paperhouse - Tago Mago
Animal Collective - Bat You'll Fly - Sprit They're Gone, Spirit They've Vanished
Gentle Giant - In a Glass House (selection) - In a Glass House
Syd Barrett - Golden Hair - The Madcap Laughs
Lungfish - This World - Love is Love (Dischord) *
Bride of No No - Real in My Friend - s/t (Atavistic) *
Fm Knives - T.V. Light - Useless and Modern (Broken)
Pegboy - Not What I Do - Strong Reaction (Quarterstick)
Gaunt - Breaking Up - Yeah, Me Too (Amphetamine Reptile)
Dillinger 4 - Twenty One Said Three Times Quickly - Midwestern Songs of the Americas (Hopeless)
Black Flag - Police Story - Damaged (SST)
The Bronx - Cobra Lucha - s/t (White Drugs) *
Johnny X and the Groadies - Spine Crusher - compilation (Omnibus) *
Kaospilot - Process is Set - s/t (Level-Plane) *
Big Black - The Model - Songs About Trucking (Touch and Go)
Napalm Death - The Kill - Scum (Earache)
Forcefield - selection - Lord of the Rings Modular (Load) *
T-Rex - Jeepster - Electric Warrior
Big Star - Back of a Car - Radio City (Stax)
New Order - Ceremony - Substance
The Diapers - Ponch's Boyfriend - How to Plan Successful Parties (omnibus)
100 Homo DJ's - Supernaut 12"
Jim Carrol Band - People Who Died - (Catholic Boy)
The Freeze - Nothing Left - reissue CD (Dr. Strange)
Black Sabbath
Friday, December 05, 2003
Playlist for Your Saxophone is My Guitar
Aired Thursday 12/4/03 4:00-7:00pm

*Beat Happening, Starlight Desperation, Exciter, and Low played by request
*Stero Total, Simply Saucer, Eleventh Dream Day, The Freeze all relatively recent reissues.

FORMAT
artist - song - release (label)



RED SCARE - Device for Annhililation 0- CAPPILARY LOCKDOWN (TMU)
CITIZEN'S ARREST - Through the Mist - COllussus (Wardance)
400 BLOWS - The Sore Thumb - 7" (GSL)
The USer - Abandon (Asphodel)
HEROIN - I've got mine - CD (Gravity)
RORSCHACH - Exist - Autopsy CD (Gern)

THE HOSPITALS - HAZMAT - s/t (In the Red)
STEREO TOTAL - Ach Ach Leibling- Monokini (KRS)
THE FREEZE - Warped COnfession - new reissue (Dr. Strange)
R Starlight Desperation - Messed Up Head - Whow You What a baby Won't
(GSL)
Eleventh Dream Day - Coercion - Praire School Freakout (Thrill)
FLYING SAUCER ATTACK - Here I Am - Further (Drag City)

RISK RELAY - C is for conspire - Low Frequency Listener (Ernest J)
STEREOLAB - Sudden Stars - Instant O in the Universe (Elektra)
BEAT HAPPENING - Foggy Eyes - s/t (K)
EXCITER - title track - Violence and Force (Megaforce)
WU TANG - THE CITY - Forever
F MINUS - WAKE UP - Wake Up Screaming

THE MAKERS OF THE DEAD TRAVEL FAST - Tael of a Saeghors Sydney Post
Punk #3 comp
THE SHAED - Ballot Bachs - Mindrocker $3 comp
THEUSAISAMONSTER - Love - Tasheyana Compost (Load)
TWLEVE HOUR TURN - How to Build - s/t (No Idead)
NANCY SINATRA - Jackson - Country, My Way

TJSA - Bottle Island - Hey, You Looking for Treble? - Year Xero
U.S. Maple - You Said that Street - Purple on Time (Drag City)
Low - Transmission - Transmission EP (Vernon Yard)
THE MOLES - Curdle - Untune the Sky (Seaside)
MEREL - Waiting for a Fist Fight First - LP (Gern)

SLEEPYTIME TRIO - I'm Not a Spy - Plus6000 (Lovitt)
KILL THE MAN WHO QUESTIONS - Dose - 7" (Bloodlink)
GO! - Why Suffer - Why Suffer 7" (Forefront)
MAN LIFTING BANNER - Sister - Give Me Back comp (Ebullition)
HARI KARI - pray for peace - Live is Boring comp
EXCELSIOR - Commodore Big - Can We Get Some Satisfaction Up in this
Piece (Buddy System)

KINSKI / ACID MOTHERS TEMPLE - Fell Asleep On Your Lawn - CD (SubPop)
Die Goldenen Zitronen - Das bibchen totschlag Sturm und Twang comp.
CD (Big Cat)
AGAINST ME! - Mutiny on the Electronic Bay - As the Eternal Cowboy -
(Fat)
SIMPLY SAUCER - Electro Rock - Cyborgs Revisited (Sonic Unyon)

DONNER PARTY - John Wilkes Booth



Thursday, November 27, 2003
Playlist for Your Saxophone is My Guitar
Aired Thursday 11/27/03 4:00-7:00pm
*Beat Happening played by request
FORMAT
artist - song - release (label)
Glass Candy - Crystal Migraine - split 7" w/ Subtonix (TMU)
ADULT. - Suck the Air - High Heels on Tile Floors (Ersatz)
A-Frames - Abstract - 2 (S-S)
Oneida - JAzz is the Teacher, Funk is the Preacher - Stop Me if You've Heard this... compilations (Rough Trade)
Entrance - simple song pt. 2 - Simple Song EP (Tiger Style)
Tim Buckley - Ashbury Park - The Dream Belongs to Me: Rarities & Unreleased
Stereo Total - Lamour a 3 - Musique Automatique (bobsled)
Amps for Christ + Jalopaz - Dance Fervor - collaberation 7" (Garbage Society)
Sterolab - Contact - Super Electric (Too Pure)
Dolomite - Ich Dien X men - ... of the Angels (Fiasco)
The Vampire Strikes Back - A Speed Bike - Br0klyn Beats compilation
Stark Reality - All You Need to Make Music - Now (Stones Throw)
The Dirtbombs - Do You See My Love - Ultraglide in Black (In the Red)
Felt - Grey Streets - s/t (Creation)
The Byrds - So You Want to Be a Rock and ROll Star - Singles Vol. 1
The Thermals - Goddam the Light - More Parts Per Million (Sub Pop)
Love battery - Between the Eyes - 12"
Love Child - Ain't That So - Okay? (Homestead)
Beat Happening - I Dig You - With Screaming Trees (Homestead)
Ink and Dagger - The Road to Hell - Drive This 7" Wooden Stake Through My Philadelphia Heart (Initial)
Tragedy - None of Your Business - Split 7" w/ Totalitar (Armageddeon)
High on Fire - Speedwolf - Surrounded by Thieves (Relapse)
Under Privelaged Nation - Captain Planet - 2nd Hand Citizen Records Vol.1 compilation of Philly Hardcore (1997)
Knives Out - Boy Afraid - The Philadelphia Sound compilation of Philly hardcore (2002) (Chunksaah)
Totalitar - Forena Er 2 - Split 7" w/ Tragedy (Armageddeon)
Red Monkey - ?? - Mailorder Club 7" (KRS)
Sticks and Stones - Along the Way - Strife and Times (Chunksaah)
Electric Turn to Me - Twenty Eyes in the Car - Clouds Move so Fast (No Quarter)
Evergreen - Plastic Bag - s/t (Temporary Residence)
Forcefield - selection - Lord of the Rings Modulator (Load)
Vitapup - Staple in the Sun - 7" (Merry Dogger)
Appendix Out - Lassie, Lie Next to Me - Rye Bears a Poison (Drag City)
ae - Not that Hard - Bootleg (Sonig)
Love Life - Hex it Out - Heart EP (GSL)
The Love Depression - Gonna Ride - s/t (Shadok)
Watchers - Follow Me, Floower - To the Rooftops (Gern)
Trenchmouth - Confectionary - Inside the Future (Skene!)
Mummies - I'm Gonna Kill My Baby Tonight - Death By Unga Bunga (Estrus)
Ink and Dagger
Monday, November 24, 2003
BACK FROM SAN FRAN.
Show on Thursday (Thanksgiving).
Thursday, November 13, 2003
Not only am I missing last week's playlist but there are no shows this week or next week. pang. i'm going to San Francisco! YOUR SAX IS MY AX returns Thursday November 27th.
now playing:
Bardo Pond - On The Ellips
Springsteen - Nebraska, The River
Stereolab - Aluminum Tracks
King Diamond - Abigail
The Adventures of Lolo (NES)
Kinski / Acid Mothers split LP
Circus Lupus - everything #(*(hjj98(#*&RY(*#W!!!1111!!!!11111 awesome
The Fall - Whatever. I'm still confused.
Kit Clayton vs. Safety Scissors CD
Bill Sienkiewicz's run on New Mutants
The Kinks - Adventures of
Fursaxa - recent live performance (see the flick below)
Slade - SLAYED?
Black Flag - RISE ABOVE #)(%*#)(*(@#&!!!!11!!!!!!
Floyd - Obscured By Clouds
Fursaxa
Espers
Hirple!
Babes on the Loose (Paul Flaherty, Chris Corsana et. al.)
pics from the recent Vox Populi art gallery benefit show in Philly
.